Welcome to Journal with Leslie
Something different, something more
Hello, hello! I'm so glad you're here.
I was so looking forward to a trip to Minneapolis to visit my son, his partner and family. But Mother Nature came between us. The massive snowstorm and sub-zero temps changed everything. <sigh> So today, I did a spinning workout, put on my Santa jammies, and started exploring this new blog/newsletter format recommended by
— and I thought, "Why not?"
Thanks for reading Journal with Leslie! Subscribe for free to receive new posts and support my work.
I've been sharing email/print newsletters since 1997 (!) and blogs since 2006 (Momentum Matters!). My hope is this new format will simplify the sharing of empowering journaling techniques I have swirling in my creative brain.
Journal with Leslie will focus on tips, tools and inspiration for a soulful journaling practice that leads to clarity, creativity and JOY.
Let's see where this leads… starting with A Word That Matters.
I've been thinking alot about my word for 2023. Rather than commit to a New Year's Resolution, I always claim a special word that keeps me grounded. Turns out that I refer back to it at the most unexpected moments. A few years ago my word was "release"... and did I get rid of a lot of stuff we, and our grown children, no longer used, needed or wanted.
In 2011 I embraced the word "joy" ... and did it ever help in the days following my parents' passing. Just thinking about that word made me smile as I approached EVERYTHING with joy... family, friends, business opportunities, professional relationships, health, food, travel, leisure, my blog. You get the picture.
I'm starting to try on words for 2023. Will it be play, courage, open, trust, balance, sacred, light, vitality, prosperity, gentle, peace, flow or something else? It takes a bit to land on the right word, but I know it will emerge as I take into account what I want to manifest in the New Year as well as how I want to feel and be supported.
For many years I've purchased a beautiful salvaged word created by Colleen Attura, available HERE. She describes choosing a Word for the Year as a simple yet life-changing practice for the year ahead. She asks, "What word do you want to walk toward… or beside?"
Some years I select three words for the year from my Pocket Inspiration Cards, available HERE. Sometimes the selection is deliberate, sometimes totally random, sometimes a combination. Here's a sample of three that I randomly selected as possibilities for 2023: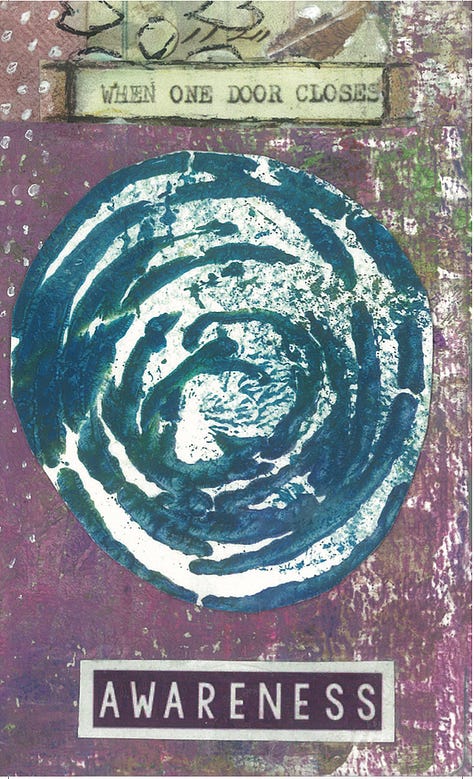 I'll have to ponder these cards for 2023. I'm ready for something different. It'll take AWARENESS to tune in, COURAGE to let go and TRUST to allow "it" to emerge .
Will you embrace a word for the year? It'll change your outlook and help you manifest exactly what you want. Your word needs to reflect you and the upcoming year, so ponder it before making your final selection.
Need help figuring out your word or visioning the New Year? Join me for an online workshop to SOAR in 2023. Sign up HERE. This is another of my New Year rituals. We'll meet via Zoom on Friday, January 6 from 12-4 pm Eastern time. We'll explore what you want to create in 2023. You'll identify what's giving you energy, what's taking it away, what to amp up, and what to release. You'll journal the new story that wants to emerge, create a personal Feng Shui vision board, and define next steps to make 2023 your best year yet. This workshop will give you the time and space to intentionally define your dreams and create the life you crave in 2023. Plus it's just plain fun.
A face-to-face version takes place at Crooked Tree Art Center in Traverse City, MI, on Saturday, January 14 from 12-4 pm. Register HERE.
That's it for now. After the holidays I'll share another ritual I embrace at the end of each year. Do you have any of your own?
Thanks for reading Journal with Leslie! Subscribe for free to receive new posts and support my work.